It was a wonderful Wednesday!
After reading more about Tua and her elephant (things are getting complicated), we prepared for our buddies.
We began our time with our buddies sharing a read aloud called Red is a Dragon.

This book not only had a connection to our region of study, but allowed us to share something we all knew and love… COLOR. Yesterday, we started to write "I am…" poems related to being a risk-taker, so we used that same format to help our buddies write poems about a color. This was a tad challenging, but with patient and persistent prompting, we were able to craft some creative, color-filled poems. It was nice, at the end, to just share some quiet reading time with Eric Carle books.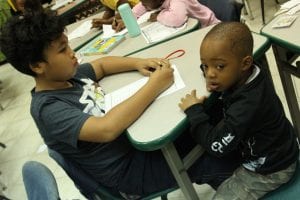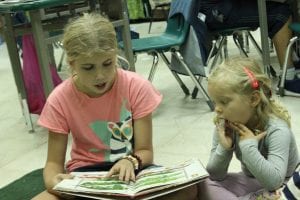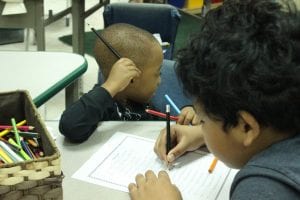 After recess, we had another appointment… this time with sixth graders. For the last several weeks, sixth grade students have been preparing a lesson to teach us how to use Ozobots. A small groups of student leaders communicated regularly with Mrs. Rupp, gathering information about our class, sharing ideas, and receiving feedback. All their planning culminated in today's big event. Upon our arrival, we were greeted by the sixth grade students and invited to sit in pre-established triads. The group leaders then shared a brief presentation establishing expectations, setting the purpose, and sharing the agenda for our time together. With clear signals and expectations, sixth grade students divided and conquered. The challenge… use the iPads to design a dance for the Ozobots, which would culminate in a dance off. Fourth grade scholars, along with their sixth grade coaches were completely engaged in the process the entire time, experimenting with various designs, patterns, colors and codes. Students were willing to take risks and receive feedback. It was especially interesting to see how everyone from both classes showed a number of learner profile traits – open-minded, communicator, knowledgeable, risk-taker, principled, and reflective. After the dance off, students then had to create a color-coded pattern for speed in preparation for a final race.  Exciting!!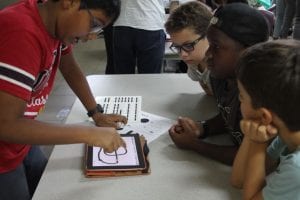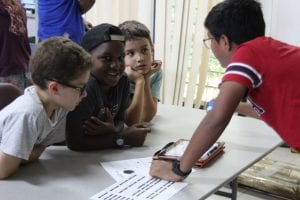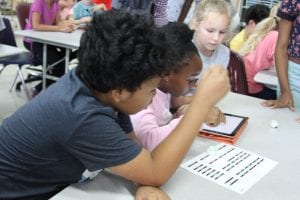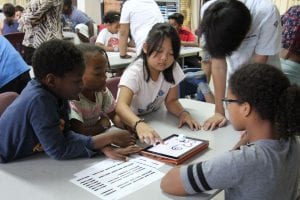 To end our day, we worked to represent our data on a line plot. The trickiest part was creating the number line. As it happened, after we started, we had to revise and redo our line, so all our data fit without being too tight.