As we settled back in to our scholarly routine today, we took time this morning to review a few changes to the schedule and to examine this week's vocabulary words. "Antagonist," "protagonist." and the word part "struct-" seemed to be of greatest interest. Once personal and collective notes and noticings were made, a challenge was issued to be on the alert of clues and multiple sources related to this week's words.
We then moved into an examination of our next transdisciplinary theme: How We Organize Ourselves. In small groups, students read and reread the title and description and highlighted and annotated words of interest or words that might help drive an inquiry. With their new multi-colored pens, students mused marvelously and considered critical connections and questions. As groups shared their thoughts, it was amazing to see similarities and exciting to see  differences that will lead to wide and wonderful investigations.
As part of the launch of our new unit, students participated in a puzzle-making provocation. As the picture was revealed and the pieces poured out on the carpet, students immediately began to share strategies for sorting. Patient, polite, yet purpose-filled leaders emerged from the crowd and calmly conducted the construction process. Throughout the entire process, students remained respectful, riveted, and ravenous for the challenge.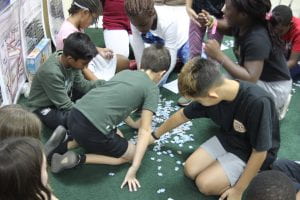 Loved watching G4 #collaborate @TASOKinshasa with @lesleerupp ….1000 pieces, the Taj Mahal! I wonder when it will be complete? pic.twitter.com/VrLOtIbGoS

— Paula Baxter (@paulabaxter67) January 7, 2020
Taking a brief pause from the puzzle, students also inquired into problem solving processes related to the estimation of large numbers. Data related to food consumption was shared and questions posed. Students approached each question with a variety of strategies, which were shared, compared, and considered by others. Multi-step problems proved to be a tad challenging, but we will continue our work with this in the days ahead.
To end the day, Ben chose to share a portion of his rock collection. With great detail, he described each stone sample, making connections to our work with the rock cycle. We might just have a geologist in the making.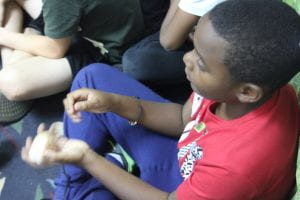 Multiple Sources