Despite the short day, we managed to pack in a full set of lessons today. We had lessons in Grade 3, 2, K, K1, and 1. All teaching teams moved on to their next lesson, which was either the second or third in the series.
Day 3 – Structure

Once sorted and selected,

Precisely placed pieces must be.

To paint a powerful picture

Order and structure are the key.
For the third lesson, students worked in their poem-building teams to put words in an order that painted a word picture. They had their puzzle pictures glued on the paper, but the challenge was to enable others to see that picture without looking at it. This was a big challenge and required communication, open-mindedness, and thinking.
Each team got a bag filled with words. As we had done previously in class, learners worked together to sort those words into categories or groups of related words. Then, they thought about how the words might be able to go together to create lines of the poem. Of course, some lines were not complete, so students had to fill in spaces with other smaller words.
Teaching teams presented the follow example as part of their lesson. Students might have the following words in their bag:
pretty          light
The group might decide these two words work well together, but they didn't quite create a line, so… they could write in some words to complete the thought
A pretty pink light glowed
Day three stretched teaching teams, as they really had to know how to prompt, guide, and question learners through the process of sorting and piecing together like a puzzle. Unlike a puzzle, though, there were no built in picture clues or one right way to make the pieces fit. Since poetry was new for most grades, this was quite a challenging lesson.
Grade 3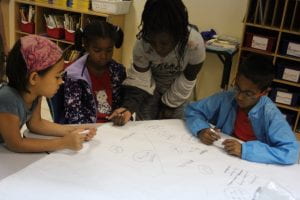 Grade 1
While teaching teams were out, the groups that stayed behind practice their third or fourth lesson. Both required a great deal of knowledge and understanding in order to support other learners.