Today, TASOK welcomed hundreds of students from schools across the city to join in on a journey through the jungle. The cross country meet provided opportunities for some students to run a rigorous race and for others to stand by and support. As a bunch of bystanders, fourth graders were able to witness the power of words to strengthen and spur others on.  With outreached hands, we heartened competitors and community-members alike, participating in each person's pursuit of perseverance.  With simple words of encouragement, we saw smiles shine on fatigued and frustrated faces. With the clapping of hands and the chanting of cheers, we saw slow, struggling steps transform into speedy, strong strides.
We were grateful for the chance to serve with smiles and support and to see how easy and essential encouragement is.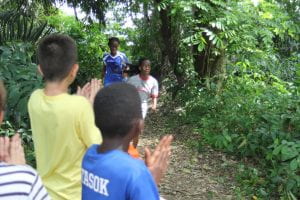 @Scholarsare joined Mr. V. and his atelier team to cheer on runners during Friday's cross-country meet @TASOKinshasa. As tired trailblazers rounded the corner, we saw exhausted shuffles transform to exhilarated, smiling sprints. #Bucketfillers make a difference. #TASOK @TASOKPYP pic.twitter.com/0wHCSlRRV1

— Leslee Rupp (@lesleerupp) November 17, 2019
The perseverance of the runners reminded me of this baby bear. NEVER give up!