Today, we continued our inquiry into problem solvers by first accessing our prior knowledge. Students began by THINKing about 3 problem solvers (fictional or nonfictional) that they knew. Moms and dad were definitely at the top of many lists. Students then IDENTIFIED 2 qualities the problem solvers shared, and DESCRIBED 1 example of a problem encountered that has or has not been solved.
Once the THINKing had been done, students gathered in groups of 3 to SHARE their thoughts. As students compared listed, they realized that our family members, friends, teachers, and community members can be problem solvers. They also realized that they themselves can be problem solvers. Another big idea that came out of the discussion was that in order for there to be problem solvers, there first must be a problem. As we continue to inquire into our central idea, key concepts related to form, function, connection, perspective and reflection will be explored.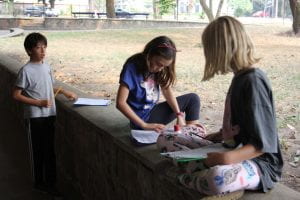 Once we had tapped into what we already know, we shared a read aloud entitled What Do You Do with a Problem by Kobi Yamada and illustrated by Mae Besom. We followed the journey of the main character who encountered a problem that quickly became overwhelming. We discovered, though, that when he became a RISK-TAKER and chose to face his problem, he realized it was really an opportunity. Being OPEN-MINDED, even about problems, can be transformative.
Not only did we analyze the the text, but we also used our detective eyes to examine the illustrations. The author and illustrator collaborated to tell a powerful story about problems and problem solvers. By using our super secret agent skills, we were able to see some of the symbolism associated with this big idea. As you watch this read aloud… what do you notice?

Tomorrow, we will spend a bit more time talking about this text and discussing it through the lens of story elements.
After recess, we had a special guest join us. Ms. TaShawndra, our new elementary counselor, popped in for an introduction. She just happens to be… a PROBLEM SOLVER. She talked a bit about her role and types of problems she can help us solve here at TASOK. At the end of her time with us, she sent us away with a task to complete at home with our parents. Don't forget, it is due on Monday!
As scholars, we know it is important to use multiple sources, so at the end of the day, we started to look at mathematical multiple sources. This lead to a discussion about tools we can use in our classroom to better understand and work with numbers. Two tools are included below.
Place Value Chart (Currency Connection)