Crafting and composing while collaborating was key part of our day. These writers are always eager to engage their pencils and papers in the problem solving process that is writing. Whether it is identifying ideas, incorporating interesting details, or improving sleepy sentences to make them sizzle, there is always a buzz of excitement around the process. It is especially exciting to see the scholars use multiple sources like dictionaries, thesauruses, Chromebooks, and one another.
Extending yesterday's exploration, students worked to expand their understanding of arrays and their connection to multiplication by building with 36 centimeter cubes. In addition to manipulating the blocks, an important part of the process was capturing and communicating thinking on paper.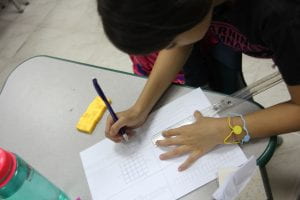 Several students took it a step further to share their thinking and problem solving process on SeeSaw. These will be shared with fellow scholars tomorrow and with our parents… soon.
In preparation for our survey distribution, the entire class contributed to a shared writing of the script, to ensure that all participants received the same directions and information. Students then worked in pairs to divide up the parts and practiced their delivery. Reading fluency and expression were key aspects of reading worked on today.