Today began with a Flag Ceremony. First thing this morning, staff, students, and some parents, many wearing traditional clothing or clothing that represented their home country, lined the central sidewalk running from the parking lot to the high school soccer field. Students hailing from the United Kingdom gathered closest to the parking lot, where Ms. Paula, in full patriotic costume, was enthusiastically encouraging students. From there, students from the Turkey and Thailand gathered by their respective flags, which continued in reverse alphabetical order all the way to Albania. Students from our host country, The Democratic Republic of the Congo, gathered at the front of the line, waiting to lead the Flag Ceremony onto the field.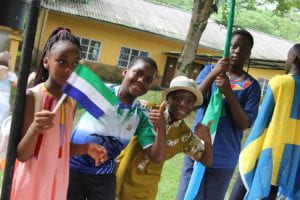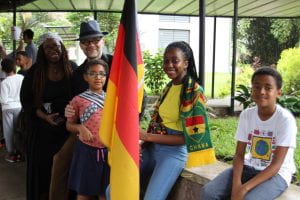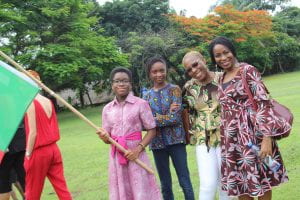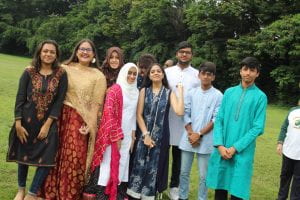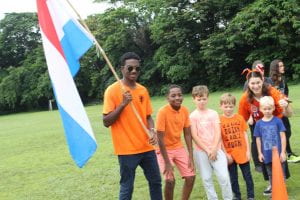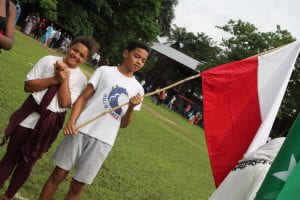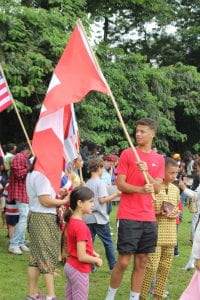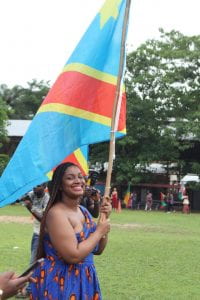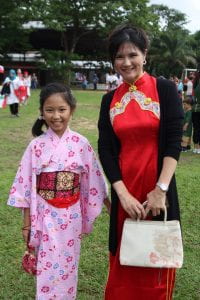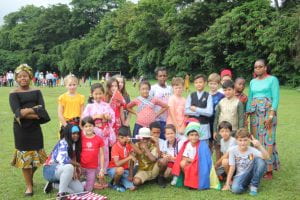 In Olympic-like fashion, each nation was announced by Dr. Mullen, followed by some cheering and marching to the beat of some marvelous music. It's amazing to see how we can celebrate and be unified by such diversity.
After the parade, we gathered for our all-school photo. We maneuvered ourselves to create a map of the DRC with IB in the center. The idea was from the grade 10 design class; they wanted TASOK to be represented as an IB school in the Congo. Once again this year, the photo was taken by… a fleet of drones!!
The photo has not yet been released, but we will post it here when it's ready.
After recess, we ventured over to Kindergarten to share our Seesaw expertise. In this introductory session, students learned how to log in to the app by scanning the QR code and add an entry into their journal. Students were able to take a picture of text and read it for their parents. This digital portfolio will be a wonderful way to document how these new readers grow throughout the year.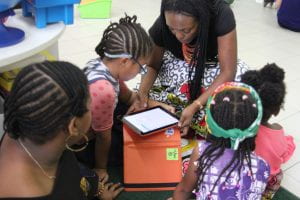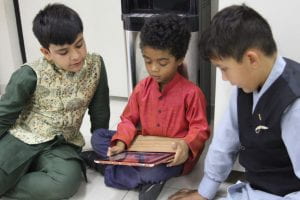 Much of the rest of the day was spent watching the clock as the much-anticipated International Lunch approached. At 11:15 a.m., older students made the traditional trek to the elementary school to meet their assigned elementary buddies with whom they enjoyed a fabulous feast. We were buddied with grade 9 students this year, which allowed us to all eat together and enjoy one another's company and conversation. Tables decorated with patterned pagne cloth and set with napkin-wrapped utensils welcomed the students to the covered basketball court. With patience and politeness, students and staff perused the beautiful and bountiful buffet and selected samples to savor. Congolese beignets, Lebanese tabouleh, Turkish mercimek koftesi, Malagasy mofo laisoa, and… American mac and cheese were only a few of the featured foods. For almost 90 minutes, our TASOK family lingered over this mouthwatering meal. And, when it was all over, students even stuck around to serve by cleaning up.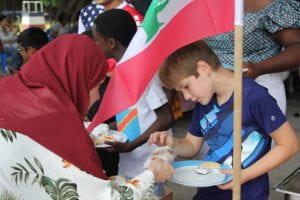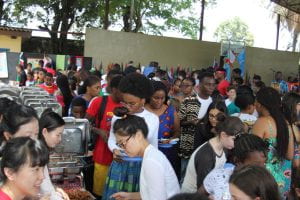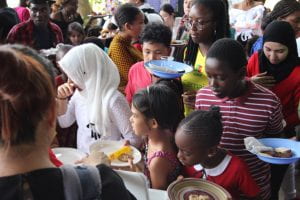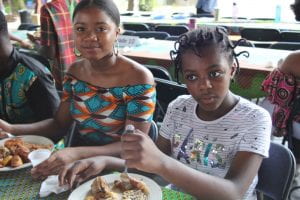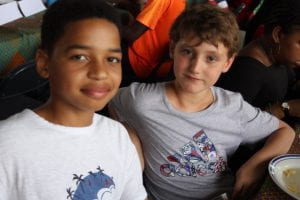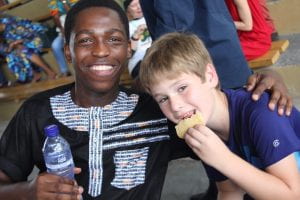 At one point, we participated in a flash mob, led by third grade. Fun! Thank you, Mrs. Fischer, for coordinating this secret surprise.
Thank you to those who helped coordinate the lunch and prepared delicious dishes for us to sample. Know we are grateful.
We are also grateful for Ms. Hall and her willingness to share her love for music with us and for the opportunity to share our love for music with the TASOK community.